We've already written a whole blog post about the best hiking spots in the UK here so we thought that it would only be natural to follow that up with a post about hiking boots to help you advance your hobby. Particularly if you are new to the world of hiking, you may not want to invest too much money on a pair of hiking boots before you know much about this pastime, but don't worry since it is relatively easy to nab yourself a pair of great basic hiking boots that won't completely break the budget or you piggy bank.
A good pair of hiking boots need to be durable, broken in (nobody wants a blister half-way up a punishing slope) and need to be able to provide your foot and ankle with the right level of support and comfort. Luckily there are loads of brands out there that have managed to offer this to you for a relatively low price, meaning that you can invest in a pair of hiking boots that will last for some years. If you are looking to purchase some hiking boots but are on a bit of a budget, read on to find out about our favourite picks.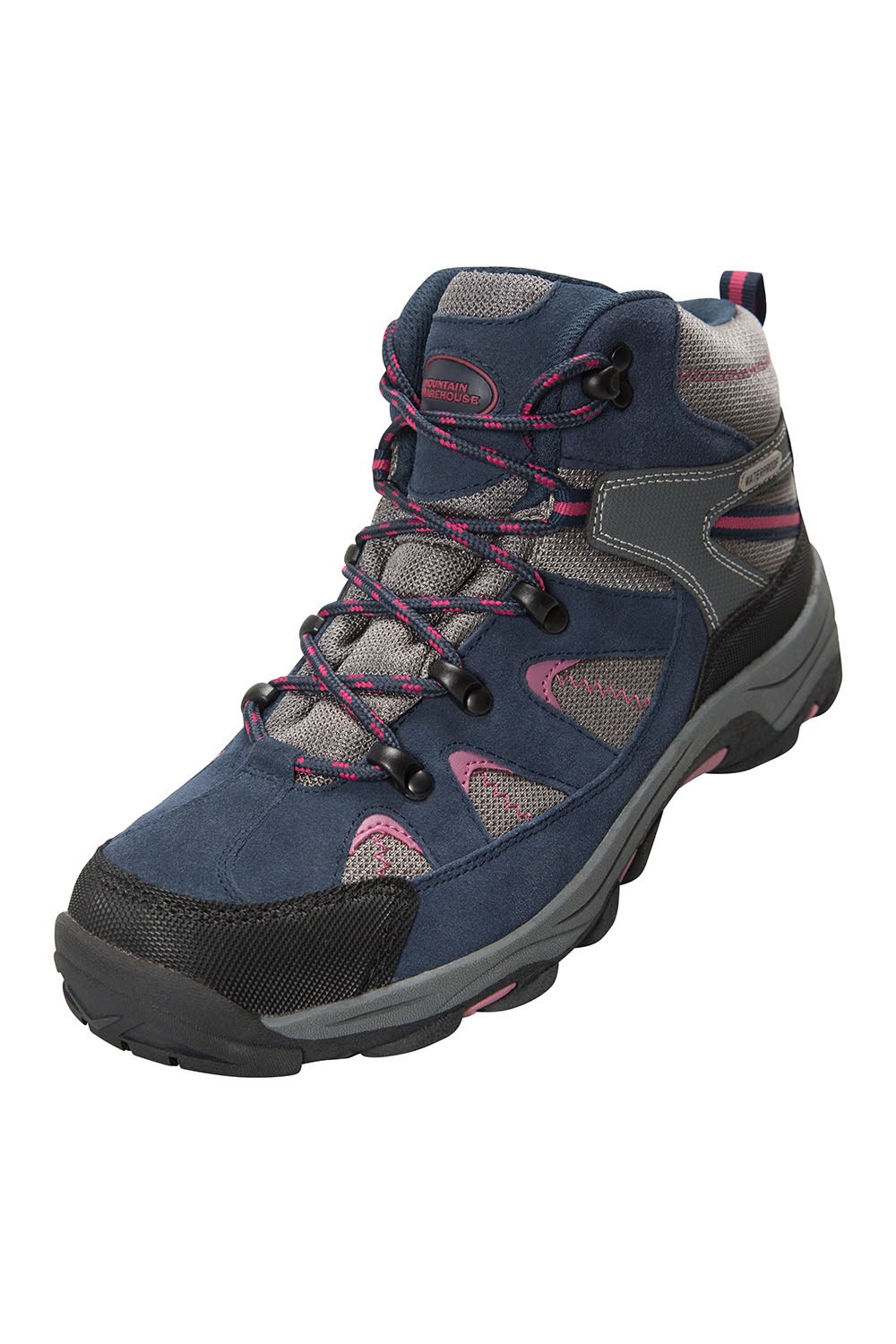 Available in either this Berry trimmed colour or in teal, these ladies walking boots are just the thing to get you out and about on a hike. This pair comes from British outdoor brand Mountain Warehouse, and are currently in the sale at a very reasonable £34.99. Even better they are breathable and inspired by the comfort of a trainer, and in addition to this, they are available in a men's and kids' version too so you can kit the whole family out with a pair of great new walking boots for only around £100!
These walking boots here are a strong and sturdy version for both men and women that come from Scottish brand Trespass who are another retailer that specialise in kitting us out for the great outdoors. Just like with the above Mountain Warehouse shoes, these are currently in the sale at just £39.99, down from £99.99. Both waterproof and breathable, your feet will stay dry and comfortable and well cushioned thanks to the foam sole. Made from a durable leather, these boots have been designed to last whether you are hiking every weekend or not!
For a lightweight men's hiking boot that doesn't cost the earth, then you should check out this Karrimor pair which are available at Sports Direct. Currently priced at just £24.99 for the blue version, these are not only waterproof but also boast a foam rubber sole for the ultimate in hiking comfort. The heel and ankle are both padded to prevent painful rubbing, and the great grip on the bottom of the boot means that you can stride securely even in challenging conditions. If you're going to be shopping online for these, then check out a Sports Direct discount code first to make sure that you get a great deal.