Here at Outdoor Shoes Online we're not just fans of the best outdoor shoes out there whether you love trail running, bmx-ing or hiking; we're also fans of the outdoor life in general and as that is the case we've decided to dedicate a whole article to some of the best outdoor clothing that is available out there for women. And as always we have a keen eye to a bargain though, and believe that you can still buy yourself good quality outdoor clothing without breaking the bank. We have already talked about where you can buy some great but affordable hiking shoes here so this time around we're going to be discussing the clothing aspect of things. Whether you are a keen hiker, or simply need something practical to walk the dog in, read on to find out some great and versatile picks that will really come in handy when you are out and about in the great British countryside.
If you are the type that loves day-long walks into the wilderness, then a practical pair of trousers is simply a must, and while there are some really pricy offerings out there, you don't always have to spend that much to get a great quality product as this pair of khaki trousers by outdoor brand Karrimor proves. They are actually a really versatile design in that you can unzip and detach the lower portion of the leg to turn them into shorts which is particularly handy if you are planning to be outdoors all day! Made from a lightweight and breathable material and featuring multiple pockets, a comfortable waist with belt as well as a great price tag, these will be perfect for when you're out exploring. One of the best things about these versatile and lightweight practical trousers is of course their price which is a bargain at just £19.99.
With the British weather being what it is, it is always important to invest in a waterproof and windproof jacket that will protect you from whatever the elements decide to throw at you. A good idea to save yourself some money without stinting on quality is to buy a 3 in 1 jacket like the one from Trespass above. A 3 in 1 jacket is a robust raincoat that also features a detachable inner fleece jacket hence the name since you can wear it in 3 different ways. This lovely sky blue one is lovely and visible, and the black fleece with help to keep you toasty warm whilst still only costing £29.99.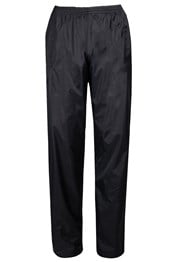 And finally for something that you can easily throw in your bag and that will keep you dry from the often wet and rainy weather in the UK, get yourself a pair of packaway waterproof trousers like the ones above from Mountain Warehouse. Available in black, navy or purple, you can throw these on over your normal trousers and keep yourself completely dry for just £14.99! They come in a handy little pouch and a practical thing to own whether you are outdoorsy or not!